Tatjana Jambrišak
Guest of Honor at SFeraKon 2016.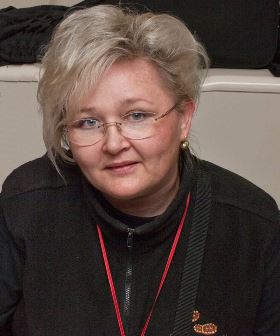 Tatjana Jambrišak (Zagreb, 1965) is a literary translator and editor, writer, poet and the winner of five SFERA awards. She edited several collections of stories by Croatian authors and the SFeraKon's annual collections, including collection of Croatian short SF stories translated into English: KONTAKT.
Among her translations into Croatian there are some Pulitzer prize winners; Cormac McCarthy, Elizabeth Strout, Gillian Flynn, Joe Walton, Ian McEwan, Cory Doctorov, Michael Skelton, Richard Feynman, Brian Aldiss and Christopher Priest. She translates Croatian literature and speculative fiction into English, as well as comic scripts, published internationally. Among others, the translation of graphic novels include works by Alan Moore, Art Spiegelman and Neil Gaiman, as well as Warren Ellis, Robert Kirkman and many others.
She has been publishing SF stories since 1989 in various Croatian anthologies, competitions, literary blogs and various literary magazines. Three of them – Spirit of the New World, Red and Black (published in Ad Astra, the anthology of Croatian SF stories of 1976. – 2006) and No Greater Fun, Ladies, were awarded the annual national SF awards SFERA. Her SF stories were collected and published in 2003 (Spirit of the New World) and 2015 (28 Million Suns). Several of the short SF stories (Awake Among the Stars, Bella Proxima, Sandra, Repetitio) were published internationally in English, German, French, Bulgarian, Polish and Spanish.
Her 3D computer art illustrations, available at www.tatjana.ws , accompanied by short SF, F and horror texts were also awarded the SFERA award in 2001. She participated in several international competitions and exhibitions.  "Every Time We Say Goodbye" by Zoran Vlahović from the KONTAKT received an honorable mention in the 2013 Science Fiction and Fantasy Translation Award for her translation and translation editing into English.
Other bibliography: a collections of poems (Dream Letters, awarded with her fifth SFERA award and the her next anthology Shine), short stories (Never an Ex) and squabbles on gender chitchat (Blog Given). The comic book Anja, drawn by Branka Nikolić, a collection of essays on gender differences (Whispers), travelogues with photographs (Floatings) and short fiction inspired by media contents (Mouth Water).